Pearl District Small Area Plan Open House on May 23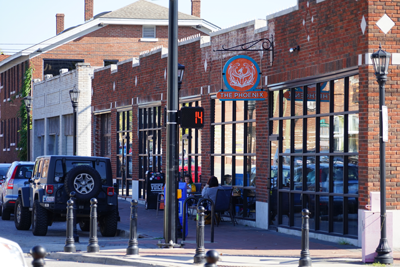 The Tulsa Planning Office invites the public to an Open House to review the update to the Pearl District Small Area Plan on Thursday, May 23, 2019, from 3 to 7 p.m. at the Central Center, 1028 E. 6th St.

At this come-and-go event, draft of the plan will be available, and attendees will have the opportunity to discuss the proposed concepts and recommendations with staff. The Open House is an informal, drop-in event, so no formal presentations will be given; instead, it is an opportunity to ask questions and provide feedback directly to the Tulsa Planning Office.

Once adopted by the Planning Commission and approved by the City Council, the plan will replace the 6th Street Infill Plan, originally adopted in 2006. Small area plans provide tailored solutions for neighborhoods and are developed primarily through the input of property owners and area stakeholders. There are four overarching priorities recommended in the Pearl District Small Area Plan:
Priority 1: Stabilize and revitalize existing residential areas, promote homeownership and housing affordability, and increase housing choice.
Priority 2: Promote development that retains existing and increases businesses and increases mixed-use, commercial and retail opportunities.
Priority 3: Increase safety and security throughout the district.
Priority 4: Improve targeted infrastructure to support health and wellness and catalyze development.
The Pearl District is located east of downtown, between US Highway 75 and Utica Avenue, and between Interstate 44 and 11th Street.
All comments, suggestions, and questions are welcome. For more information, contact Amber Wagoner at 918.579.9458 or at awagoner@incog.org.
View the Draft Plan
Facebook Event


---
City of Tulsa
Voluntary opt-in Mixed-use (MX) rezoning incentive program
On August 29, 2018, the City Council initiated a voluntary opt-in MX rezoning incentive program along the Peoria Avenue BRT route. This program is available to owners of properties located within ½ mile of identified Enhanced BRT stations that are recommended for MX zoning in the Framework with no application fee. Typically, MX rezoning application fees average around $2,000.
Please call 918.584.7526 or esubmit@incog.org if you have any questions.
---
Merger Ushers In New Era for Planning In Tulsa
In January, the City of Tulsa's and INCOG's Planning Departments merged, creating the new Tulsa Planning Office, housed at INCOG. The unification of the two departments was announced in October by Tulsa Mayor G.T. Bynum, who sought to provide better service to the public, streamline planning efforts, and create efficiencies while elevating the role that planning plays in Tulsa's development.

The INCOG Board of Directors officially approved the agreement in December, and crews completed an extensive build-out in January to accommodate the 12 new employees. Susan Miller, AICP, who has led INCOG's planning efforts since 2012, heads the combined department.

With the move also came a new, program-based structure. The Current Planning division will continue to oversee cases that come before the Planning Commission and City & County Boards of Adjustment, and now will include staffing for the Tulsa Preservation Commission. The Long-Range division includes teams focused on updating the City's Comprehensive Plan, implementing and tracking existing plans, and developing strategic plans for smaller areas. The department also includes the City's new Destination Districts program, which seeks to revitalize commercial districts across Tulsa.

For more information, contact Susan Miller, AICP, Director of the Tulsa Planning Office, at smiller@incog.org or 918.579.9470.
---
Quick Links:
City of Tulsa Development Services Contacts
City of Tulsa Board of Adjustment
Tulsa County Board of Adjustment
Loading